Did you know most agree tailgating came to be on Nov. 6, 1869 after spectators lowered the buckboards (or tailgates) of their horse-pulled wagons and began serving lunches at the first intercollegiate football game – Princeton vs. Rutgers?
It's true and even more, it's a tradition that has stood the test of time and become a huge part of the culture surrounding going to sporting events of all types.
These days Americans are literally intoxicated with tailgating, most notably during football season, so much so that whether or not one even makes it into the big game or not isn't important. The real fun is on the asphalt, not the field.
The team at Fan Tailgater has decided to put together a list 10 tips all tailgaters should know to help ensure their next tailgating adventure doesn't wind up being the laughing stock of other tailgaters.
Are you a frequent tailgater? If so making a list of everything you need when going tailgating can help ensure you don't leave anything behind. Chairs, grilling equipment, team flags and more; make a list, laminate and put it on your fridge or somewhere safe!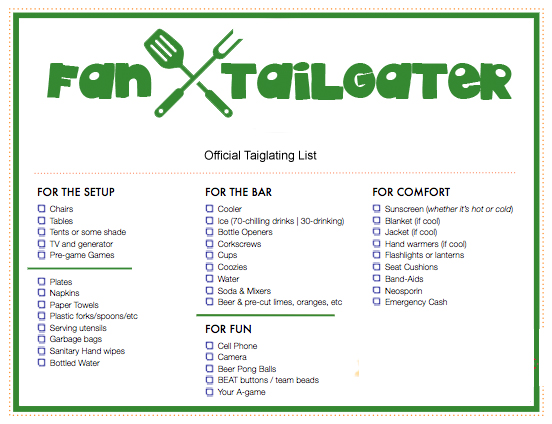 2. If you plan on tailgating with a large crowd, it's always good to have a few extra chairs and tables on hand just in case. Even bringing along an extra pop-up tent or canopy can go a long, especially if the weather is cruddy.
3. Don't shoot for the moon if you can't get there! Make sure you lay out a plan of attack before making a guest list and menu. It's important to take into account the size of the grill you have to work with. Will you be able to make due with a compact grill? Do you need to use a larger grill because more people are coming. One quick tip on how to learn your own tailgating menu limitations is by doing a few "test rounds" on your grill at home.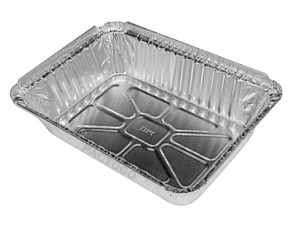 4. The disposable foil pan is your best friend. Most groceries and nearly all restaurant supply stores sell disposable foil pans, which are second to none when it comes to transporting and reheating all those delicious tailgating recipes you'll be cooking.
5. Accept offers from your guests to contribute a dish to the meal. This invests them in your party and takes some of the burden of entertaining off you.
6. Bring plenty of supplies! This ties back in with our first tip but is even more important when it comes making sure you have enough fuel for your grills, etc. Our suggestion is to bring more fuel than you think you'll need. Better safe than sorry. Also, if using charcoal make sure you have the ability to douse and safely dispose of the coals and ashes.
7. If you plan on tailgating in a field or parking lot, make sure to let your friends know where to find you. Provide them with a contact sheet with your cell phone. Also, using a unique team flag can go a long way in helping your guest find your location.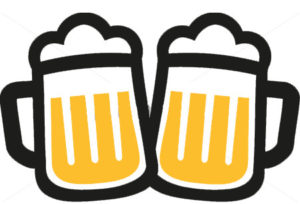 8. As soon as your guests arrive offer them a beverage. It's just common courtesy. Also, keep in mind not all tailgaters plan to dabble in alcoholic beverages so make sure you have some non-alcoholic options as well, especially bottled water.
9. Bring a first-aid kit. Sure, no one ever expects to get hurt when tailgating (well, maybe some of you) but again this simply ties back to the "Better Safe Than Sorry" philosophy. Make sure you have bandages, anti-bacterial spray, etc. Anything you can think of really.
10. Don't be a jerk! Tailgating is supposed to be a time when fans of teams come together to celebrate their fandom in one glorious voice. Don't get so intoxicated you ruin the experience for others there to enjoy the same thing as you. Letting loose to have a good time is fine but only if it's not at the expense of the fun other people around you are having.