Who doesn't enjoy a good warm bowl of chili? Just stop by the store and grab a few ingredients to make this great meal!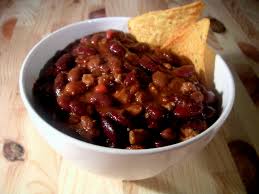 Anyone can make a hearty and filling chill, making it the night before can save you stress when it comes game day. All you need are these easy and cheap ingredients to feed quite a few people! 
2 Pounds of beef
2 Cloves of chopped garlic,
8 Ounce can of your favorite tomato sauce
The next most important thing for you chili to really give it some texture and weight is
the beans. 
One 15 ounce can of kidney beans,
15 ounce can of pinto beans
Now those are the heart and soul of the chili. That is the simple stuff that anyone can throw together to make a good chili, add these extra ingredients to really show your on top of you game.
Two tablespoons of chili powder are more than enough to make any dish really pop with flavor
(of course feel free to skip this if you prefer a more mild chili flavor)
One teaspoon of ground oregano
One teaspoon of ground cumin
One teaspoon of salt
1/4th cup of cayenne pepper
Now go and get your favorite type of cheese, I prefer sharp cheddar, but of course this one is totally up to you.
Add some chopped onions, your favorite type of Tortilla chips and finally
Finally a lime slice!
This recipe is sure to bring friends and family back every game day asking for more, you'll
surely be the talk of the Tailgate!